Star Wars Clone Wars S01E13 – Jedi Crash January 18, 2009
Posted by showmescifi in scifi.
Tags: Aayla Secura, clone wars, science fiction, sciencefiction, scifi, Star Wars
trackback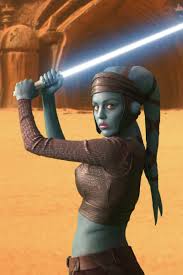 This was an ok episode – The big thing is the first speaking role for Aayla Secura ever in a live action Star Wars show/movie.
Aayla Secura was first made famous in Dark Horse Comics as the padawan of Quinlan Vos – (btw HOPE we see Master Vos in this series)!
Everyone apparently needs an accent in this show – so Secura had a – what was that a French accent?
Anyways great to see her finally have a voice.
As for the episode itself – harmless enough and basic enough. The Jedi crash land on a planet and need help. Nothing too exciting but a nice coming out party for Secura.