Dollhouse : Alpha Revealed !! It's Firefly's Wash! May 1, 2009
Posted by showmescifi in scifi.
Tags: Alan Tudyk, Dollhouse, Eliza Dushku, joss whedon, Sci Fi, science fiction, sciencefiction, scifi
trackback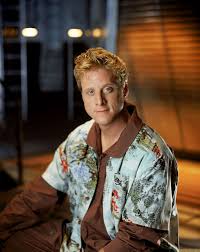 What a great episode of dollhouse. Agent Ballard finally finds the Dollhouse with the help of
ALPHA!!
We did not see that coming, it wasn't until Alpha slashed Victor that we even had a clue.
The twist with data key sending Sierra to Tucson was a little odd and didn't really make much sense though..
And why wouldn't Topher have known what Alpha looked like?
And which personality did Alpha imprint on Echo??
Lots of questions in this first episode of Dollhouse yet that did not have a clean ending.